La cocina británica
Hoy en día si viajamos a una ciudad como Londres podremos encontrar todo tipo de restaurantes: hindús, chinos, japoneses… La inmigración desde las colonias inglesas y sobre todo desde Asia ha transformado el panorama culinario en Reino Unido, combinando platos de los 5 continentes con recetas tradicionales. Nosotros hoy te vamos a hablar de 5, ¿te suena alguno?

Full English Breakfast
Podría considerarse el padre del brunch que tan de moda está (aunque ya sabéis, ¡los ingleses lo toman mucho más temprano que la mayoría de nosotros!). El típico desayuno inglés tiene su origen nada más y nada menos que en el siglo XIII y suele incluir beicon frito, huevos (pochados, fritos o revueltos, en los bares te dan a elegir), tomate natural (frito o asado), champiñones salteados, salchichas, alubias estofadas y pan tostado, entre otras variantes regionales. Para regarlo, lo habitual es una buena taza de English Breakfast Tea o café. Desde luego, muy ligero no es… ¡Pero seguro que empiezas el día con energía!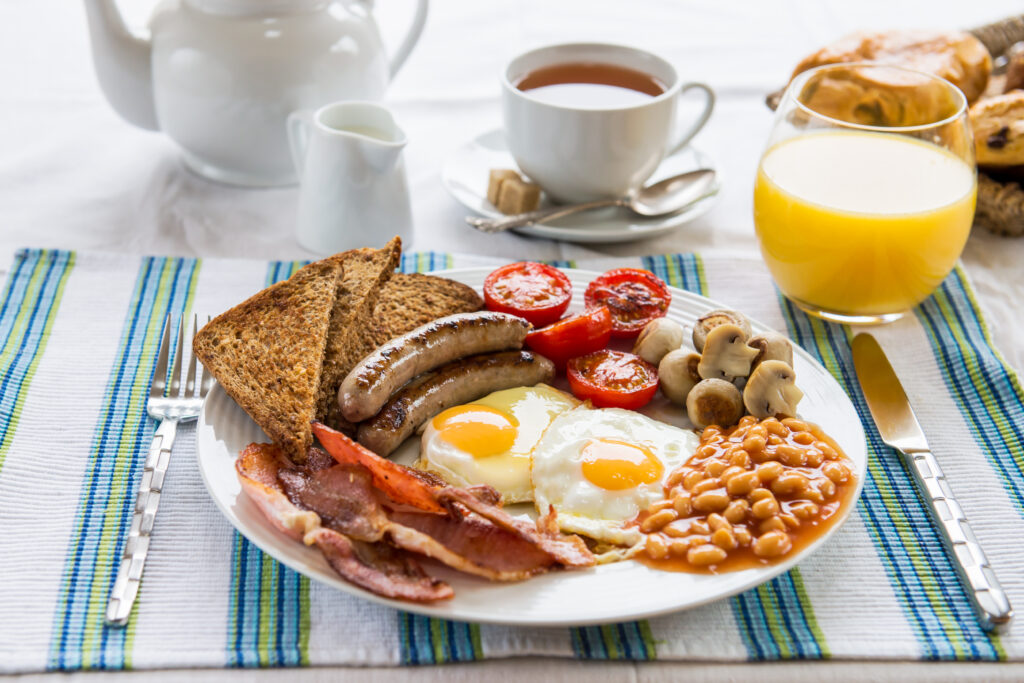 Fish and chips
Los ingleses tienen su propio fast food desde el S. XIX, mucho antes de los restaurantes de comida rápida. El pescado (normalmente bacalao o abadejo) se reboza en una mezcla de harina, bicarbonato sódico, vinagre y agua y se fríe hasta que esté dorado y crujiente con aceites vegetales como el de girasol, aunque antiguamente utilizaban manteca de cerdo o ternera. Se acompaña con patatas fritas, salsa tártara y también a veces con ensalada de col… para desengrasar un poco.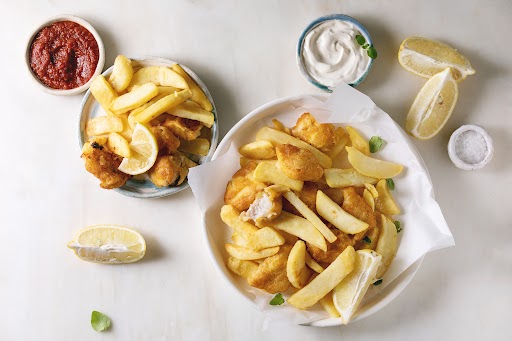 Shepherd's Pie
Este "pastel de pastor" está hecho con carne picada de cordero (también se usa ternera o cerdo, pero entonces se llama Cottage Pie) que se cocina en una salsa con cebolla y verduras como guisantes o zanahorias, después se cubre con una capa de puré de patata y se mete todo al horno para que el puré forme una capa bien crujiente… Y pensar que era la típica receta de la abuela para aprovechar las sobras…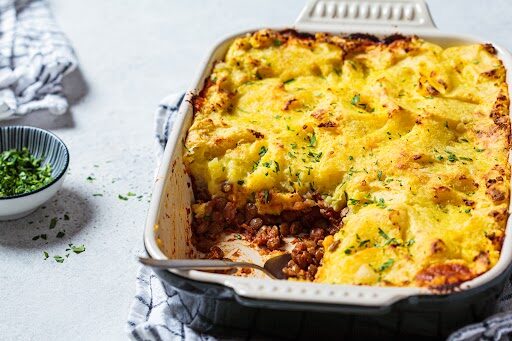 Bangers and mash
Este plato combinado típico de pub inglés es apto para un nivel A1 en la cocina: ¡salchichas con puré de patata! Se utilizan todo tipo de salchichas inglesas (las hay de cordero, ternera y cerdo) y se puede acompañar con un poco de salsa de carne y guisantes. La leyenda dice que se llamó a las salchichas bangers por la escasez de carne tras la I Guerra Mundial, que hacía que las salchichas se hicieran con mucha agua ¡y explotaran en la sartén!


Tikka Masala
Uno de los platos más populares de Reino Unido con una clara influencia India en su origen. Este plato es un ejemplo de cómo la gastronomía y cultura británica se adaptan de maravilla a la influencia externa. Su versión más conocida es el chiken tikka Masala, pero nosotros nos quedamos con la versión vegana. Te animas a hacerla en casa. Aquí te dejamos la receta . Yummy!




¿Te animas a probar alguna de estas recetas?