Tanto si tienes previsto viajar a un país de habla inglesa como a cualquier otro en el que no se hable español, aprovecha la oportunidad para poner en práctica todos tus conocimientos en la vida real. Let's go on holidays! 
Primero vamos a ver la diferencia entre cuatro palabras que usamos para referirnos a los viajes y que confundimos muy a menudo: trip, travel, journey y voyage.
Trip
Es el sustantivo viaje. 
👉 The trip to India was amazing.
        El viaje a la india fue increíble. 
Puede ser un pleasure trip, un viaje de placer o un business trip, de negocios.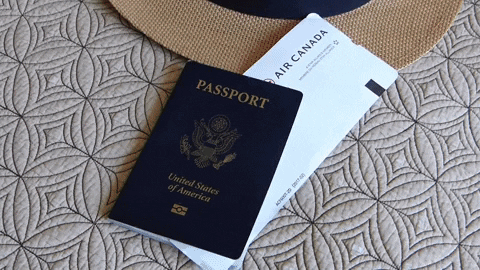 Travel
Es el verbo viajar, y por tanto siempre se utiliza como tal: 
👉  If I were rich, I would travel around the world. 
      Si fuera rica, viajaría por todo el mundo.
Nunca se usa como sustantivo: 
  I met her on my travel to London
En este caso utilizaremos la palabra trip.
  I met her on my trip to London
       La conocí en mi viaje a Londres.
Journey
Se usa para referirnos al trayecto.
👉  How was your journey?
     ¿Cómo ha ido el viaje/trayecto?

👉  Tiring, it took us 3 days to arrive in Manchester.
       Cansado, nos ha costado 3 días llegar a Manchester. 
Voyage
Se trata de una palabra cada vez más en desuso. Suele utilizarse en literatura para referirse a viajes largos, especialmente por mar. 
👉  The Titanic sank on her maiden voyage. 
        El Titanic se hundió en su viaje inaugural. 
Ahora que ya hemos aclarado esta duda, vamos a ver un montón de vocabulario para que te muevas por todo el mundo como pez en el agua.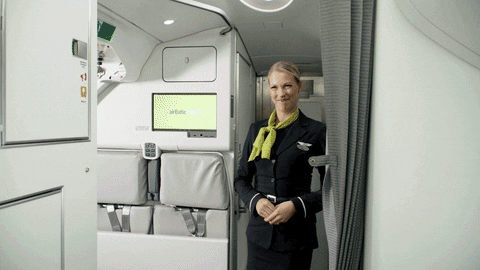 Passport: pasaporte
ID: documento de identidad
Visa: visado
Counter: mostrador
Luggage / baggage: equipaje
Left-luggage office: consigna
Hand luggage : equipaje de mano
Suitcase: maleta
Excess baggage/ overweight: exceso de equipaje
Baggage claim area: zona de recogida de equipaje
Check in your baggage: facturar tu equipaje
Arrivals: llegadas
Departures: salidas
Boarding pass: tarjeta de embarque
Boarding gate: puerta de embarque
Customs: aduanas
Land on: aterrizar
Take off: despegar
Flight attendant: auxiliar de vuelo
Pilot: piloto
Stop over: escala
Have a nice flight!: ¡Que tengas un buen vuelo!

 

Destination: destino
Vocabulario de otros medios de trasporte
Railway station: estación de tren
One way ticket: billete de ida

 

Return ticket: ticket de ida y vuelta
Platform: andén

 

Hire a car: alquilar un coche
Embarkation port/ departure port: puerto de salida
Cruise ship: crucero
At the hotel
Accommodation: alojamiento
Front office: recepción
Lobby: vestíbulo

 

To book a room: reservar una habitación
Single room: habitación individual
Double room: habitación doble
Stay: estancia
Half-board: media pensión

 

All inclusive: todo incluido
Do not disturb: no molestar
¡Esperamos que todo este vocabulario te resulte útil en tus próximas vacaciones! Seguro que este post sobre cómo preguntar direcciones en inglés, también te ayudará para orientarte en tu destino.
Enjoy your holiday!